Downloads
Brochure "The FINESCE Smart Energy Platform"
Deliverable 7.8 "Consolidated Trial Results"
Deliverable 7.10 "Consolidated Report Innovation and Business"
Latest news
25.06.2015 Review: Joint INCENSe / FINESCE workshop
17.06.2015 Special Session on Event-based Energy Metering and Control at EBCCSP 2015 in Krakow, Poland
27.04.2015 Review: FINESCE Open Day Trial Site Malmö
20.04.2015 Flexible Electrical Networks FEN - 3. Low-voltage workshop
27.03.2015 Review: FINESCE at the Net Futures 2015
Follow us on




ACCIONA Office Building – The next generation of office buildings
Smart buildings - Trial Site Madrid
This next generation smart office building won't stop working. At the FINESCE trial site in Madrid, an innovative integral concept for future office buildings became reality. Energy generation, a management system with remote real-time monitoring (including weather forecast) for the micro grid and much more is part of this challenging project.

Topics

Integrated energy management for office buildings
Lead Partner /
Contact information
ACCIONA Infraestructuras S.A.
José Luis Burón, e-mail: joseluis.buron.martinez@acciona.com


Project Partners

RWTH Aachen


Insero Software

Insero Horsens

Develco Products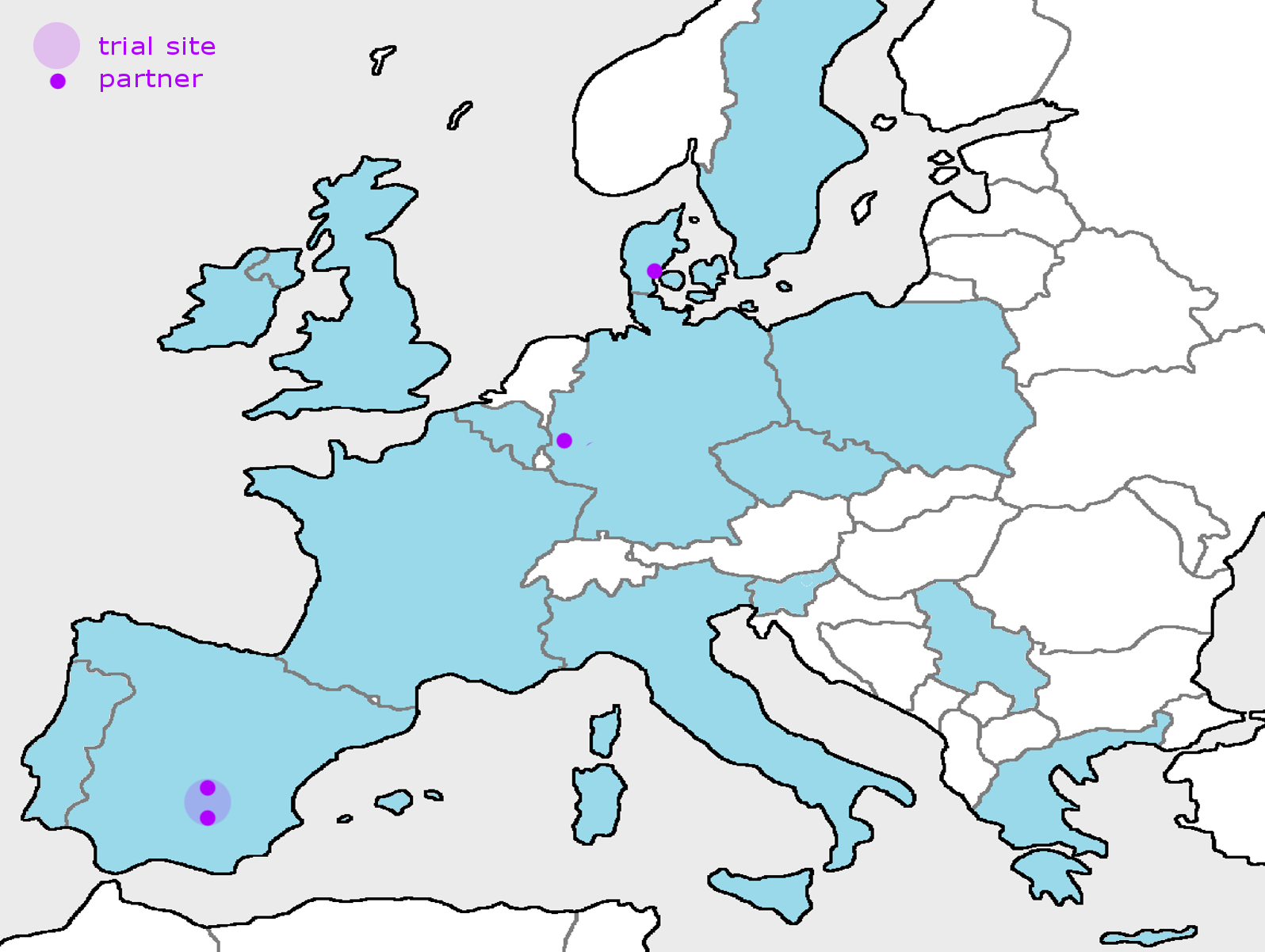 Short description
In Madrid, ACCIONA implemented an integrated energy management in one of its office buildings. The building is monitored and controlled with a building management system (BMS). Several variables can be visualised in real time with an energy control system, which was internally developed by ACCIONA and enables remote control. For this purpose, a wireless sensor network architecture connecting several modules and sensors was installed. The sensors measure for example temperature, relative humidity, luminance in and outside the building and power production and consumption.
Renewable energies from photovoltaic and wind power systems are integrated into the building's micro grid. Weather forecasts are used as an input for the building management system. Energy sub-metering in big buildings as well as for multiple buildings is tested.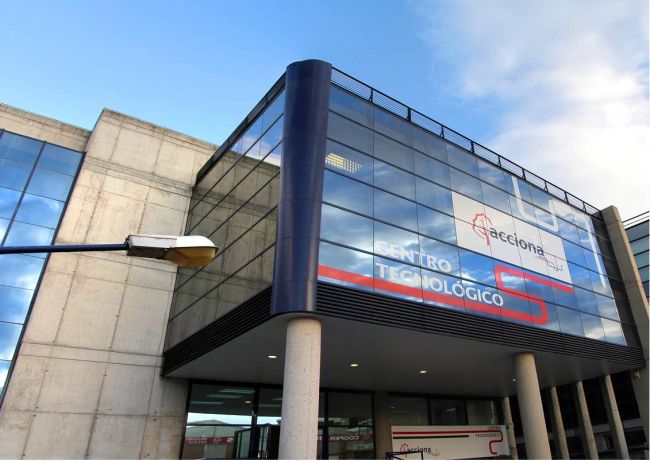 The office building environment will be modelled and tested involving real users, demonstrating how FI (Future Internet)-specific technology can enable a smoother integration of office building management strategies with energy production and storage capabilities in a micro-grid context. At the same time, a set of use cases addressing energy efficiency in public or commercial office buildings will be tested, involving different user profiles. The main use cases considered include optimisation of energy use for working and ancillary tasks, energy use monitoring, energy conservation measures, and usage of locally generated and stored energy.

Technical short profile
The office building at the Madrid trial has a centralised system for heating, ventilation and air conditioning (HVAC). A Building Energy Management was installed to have a control system for building facilities and to achieve higher energy efficiency and improved comfort conditions. Furthermore, the Building Control Center (BCC) was developed in order to provide additional capabilities as well as to integrate new devices for monitoring the energy consumption of the building. The complete system is working at facility control level and at monitoring level and allows the facility manager remote control through a multi-screen interface for multiple buildings, which is the most important innovation of this system.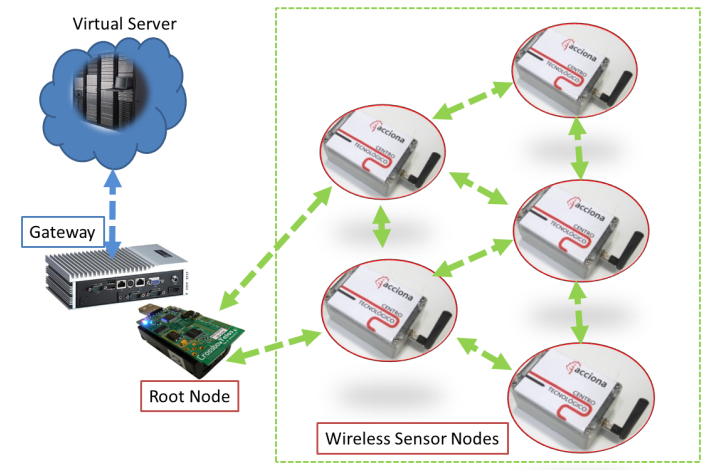 A Wireless Sensor Network consisting of wireless sensor nodes was installed. These wireless nodes are built of ultra-low consumption µControllers to process the data provided by the sensors (temperature, humidity, luminance, power consumption, etc.). ACCIONA wireless technology is based on a mesh network architecture, which consists of the different modules, like sensors, repeater, root nodes and gateways.
The Micro-Grid module of the office building consists of a battery charger module, inverter modules, a photovoltaic module and a wind module.
Furthermore, a weather forecasting system was implemented. This software module provides weather forecasting information to the Building Control Center to feed the building energy management with more accurate measurements. The information provided by this module will be compared with the information provided by the weather station located on the Madrid trial building roof.
In order to make the implementation solutions of third party developers possible, an application programming interface (API) is available. This service uses different generic enablers (GEs), which are accessible via domain specific enablers (DSEs).
The following generic enablers were used:
Publish/Subscribe Context Broker - Context Awareness Platform GE will be used in order to inform third-party application about alarms or events related to the building systems, which could be generated by the Weather Forecasting module, the Building Control Center (CCE), the Microgrid or the Wireless Sensor Network architecture (WSN)
Bigdata Analysis - Cosmos GE will be used in order to analyse the information generated by all the modules, this GE is especially important for the Weather Forecasting module in order to analyse huge amounts of root data. Different algorithms will be defined in this context.
Publish/Subscribe Context Broker - Orion Context Broker GE. This GE acts as a parser to gather the information from ACCIONA modules and fill the data required by Big Data GE.
Identity Management KeyRock GE: This GE will be used in order to assure access control policies for each high level module. Furthermore, it provides security capabilities between DSE and GE communication as well as third party access.
PaaS Manager - Pegasus GE: This GE allows the software developer to manage GEs instances creation such as Orion Context Broker and eases the GEs deployment tasks.
And finally the following DSEs are used at the trial site:
Scene Config DSE: This DSE allows defining different scenes for the different modules in order to generate warning messages, in case such an event happens.
Temporal Consistency DSE: This DSE analyses consecutive values from the different modules in order to check if there is some mistake in the data.
---
Further information: