Downloads
Brochure "The FINESCE Smart Energy Platform"
Deliverable 7.8 "Consolidated Trial Results"
Deliverable 7.10 "Consolidated Report Innovation and Business"
Latest news
25.06.2015 Review: Joint INCENSe / FINESCE workshop
17.06.2015 Special Session on Event-based Energy Metering and Control at EBCCSP 2015 in Krakow, Poland
27.04.2015 Review: FINESCE Open Day Trial Site Malmö
20.04.2015 Flexible Electrical Networks FEN - 3. Low-voltage workshop
27.03.2015 Review: FINESCE at the Net Futures 2015
Follow us on




Review: European Utility Week
4.11. - 6.11.2014, Amsterdam, The Netherlands
This November, the FINESCE-team attended the European Utility Week in Amsterdam to present the opportunities of the FIWARE platform& the results and products of the FINESCE trial sites to the European utilities and other interested energy experts.
What do experts say about the importance of ICT and Future Internet for the Smart Energy Market?
The FINESCE booth at the exhibition gave the visitors an insight into the FINESCE project, the use of the FIWARE platform and informed about the funding opportunities for small and medium enterprises within the third phase of the FI-PPP (Future Internet – Public Private Partnership) programme of the European Union
At the booth, the emerging products of the trial sites were presented, such as a heat monitor, a building management system, the virtual power plant and the smart factory, etc.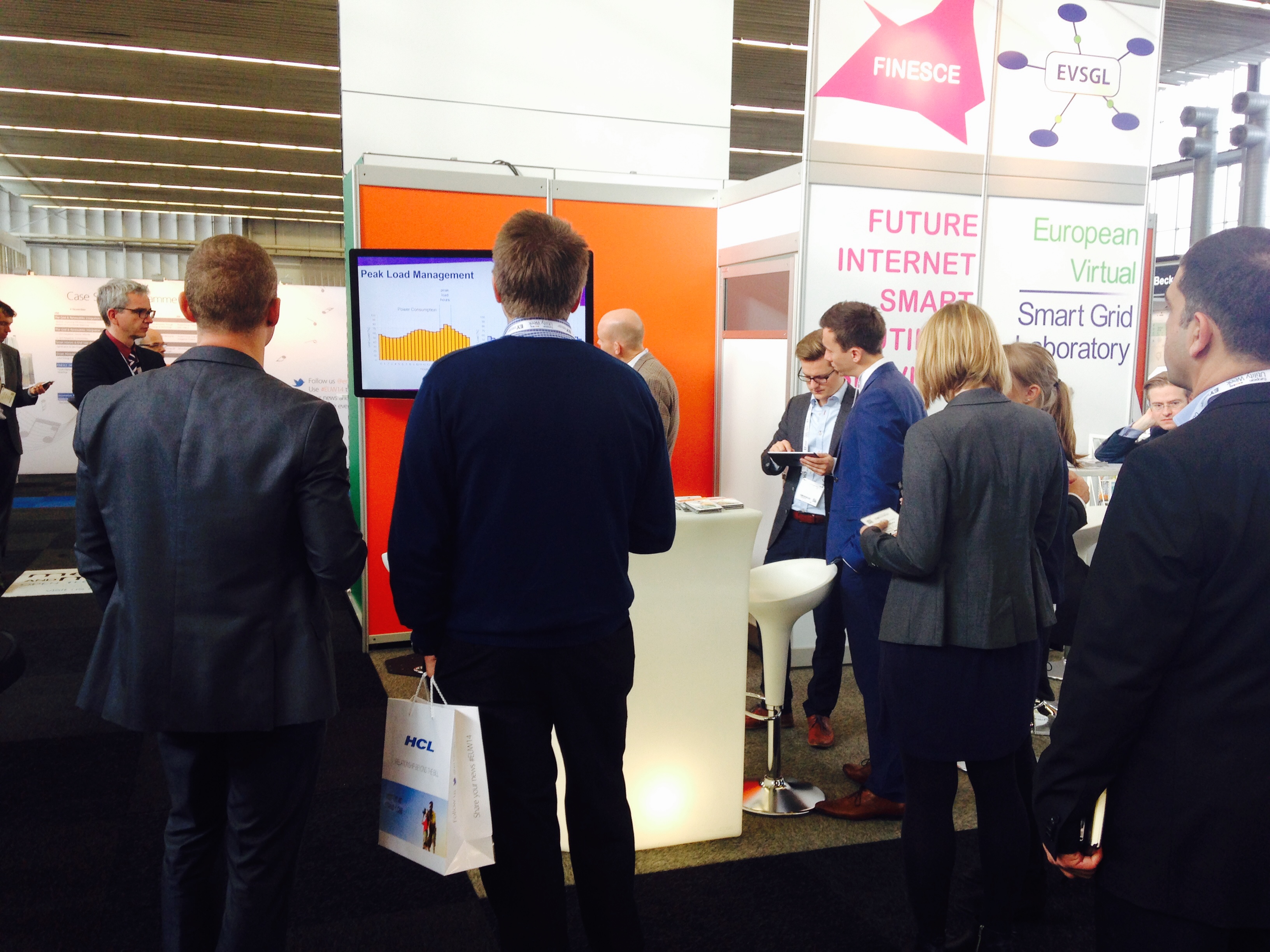 Furthermore, FINESCE organised an innovation workshop at the EUW innovation hub under the headline of "The FIWARE accelerator programme – enabling smart energy applications and services". Presentations about the use of FIWARE technology in the energy sector, the FINESCE use cases and the FINESCE API where given. The three accelerator projects "SpeedUp!Europe", "INCENSe" and "SOUL-FI", which are dealing with energy topics, presented their funding opportunities, too (presentations see below).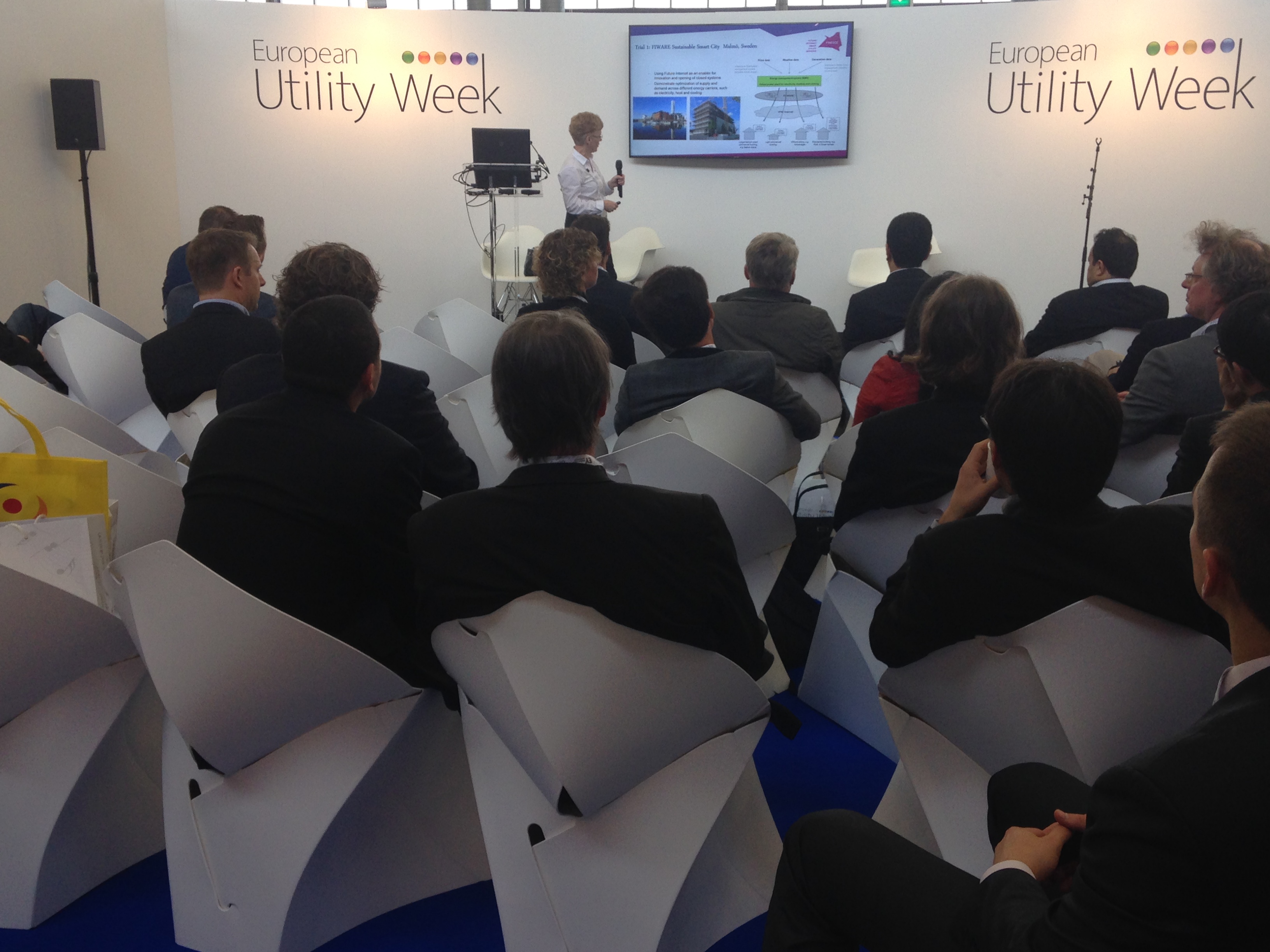 The European Utility Week is Europe's biggest utility event.The 2014 event included 170 case study presentations from utilities and smart energy projects sharing their experiences, success factors and best practices.
---
Download the presentation from the FINESCE innovation hubsession!
"How to simplify smart energy application development with FIWARE technology" (Alexander von Jagwitz, B.A.U.M.)
"FINESCE use cases: FIWARE technology successfully implemented in the energy sector" (Dr Fiona Williams, Ericsson)
"Live Data, Infrastructure and API: How FINESCE supports SMEs and Start-ups in the field of smart energy services." (Prof Antonello Monti, RWTH Aachen)
"Presentation about the accelerator-project "SpeedUp!Europe"(Youssef Sabbah, Europe Unlimited)
"Presentation about the accelerator-project INCENSe" (Juan Garrigosade Sigmaringa, ENDESA)
"Presentation about the accelerator-project SOUL-FI" (Carlos Bento, IPN)
www.european-utility-week.com/
---
Organiser: Synergy Events